Nashauna Manboard
Christian & Business Coach
Positioning You To Prosper In Your Purpose
Who am I?
Nashauna Manboard is a Christian and Business Coach. She is also the founder of Women Empowerment Services (W.E.S.). A devoted wife and a mother of two boys. She recognises God's plans for her, a life of purpose and that her purpose must be accomplished. Her mission is to empower people from all walks of lives personally, professionally and prophetically so that they are able to prosper in their purpose.
Get the Clarity, Strategy and Accountability you need to prosper in your purpose.
  I help men and women get clarity on their purpose, visions and goals so that you can increase and prosper in your purpose. In order to  walk in your alignment of your purpose, your visions and goals must be clear on what you are doing, why you are doing it and who you are doing it for.
Who is this Coaching Academy for?
My Coaching programs are designed for men and women who are called to be in a leadership position or in business but are unsure of the necessary steps to take in order to achieve success and wealth. I mentor and coach those who are lacking in confidence  to manifest what God has place in their heart into their hands so that they can increase and be profitable.
What you will get?
Once a month depending on what you have signed up for, you will have a teaching delivered by myself via a private online group or through audio. Topics are designed to support and to guide you in your personal life, business, spiritually walk with God, health and your finances.  There is also a private online community to hold you accountable and to keep you being inspired and motivated.  It is important to surround yourself with others who are heading the same direction as you and are able to elevate you along your journey of success.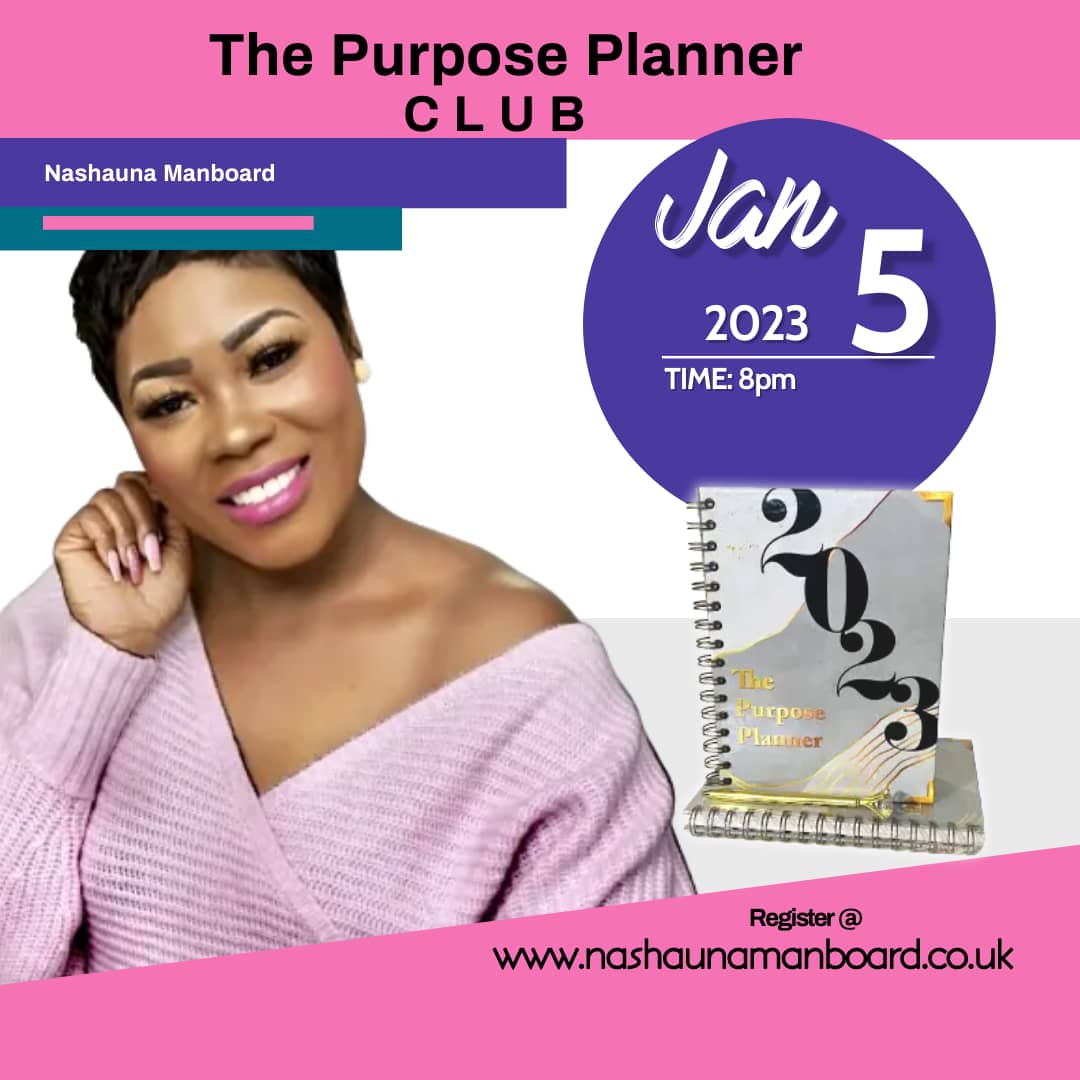 The Purpose Planner Club Coaching
Your purpose comes with instructions…
Are you ready to catapult into your next season? The Purpose Planner Club is where you put your strategies and plans for your visions and goals into an action plan so that you are able to propel to your next level.
At The purpose Planner Club, you will have…
Monthly planning sessions
Weekly emails to keep you on track
Be apart of The Purpose planner Community
Don't go into another season without a strategy and a plan.
1-1 Clarity Session (1 hour)
You lack execution because you need CLARITY.
Here's why…
You've got it in your head but you can't quite figure it out on how to move forward.
You're fearful just incase it doesn't work out.
You've some how haven't managed to put a Strategic Plan in place on how to be profitable.
You're struggling to hold it together because you are feeling overwhelmed.
Does this sounds like you?
I do a 1-1 Clarity Session (1 hour) where we meet virtual or face to face. I sit with you listen, give you a different point of view after which I will release an impartation to you which will cause you to accelerate into your NEXT.
If you need clarity on how to accelerate into your next, do not proscrastinate because your time is NOW. Use the link below to book your session.
Produce Profit Prosper Coaching (Business & Leadership Coaching)
Are you called to lead or are you already in a leadership position whether in your secular job, your business or in ministry then this coaching is for you. The 3 P'S Coaching is design for those who are called in these areas but are unsure of the necessary steps to take in order to achieve this.
 When You sign up for this coaching will gain:

Clarity on your position in leadership.
Monthly teaching session with follow up accoutability emails/calls.
Confidence and Clarity you need to walk in the plans God has ordained for their lives.
Strategic Plans you need to implement and to execute in order to gain results, grow and be profitable in every area of your life.
The Shift Academy
The Shift Academy is about cultivating, nurturing and transforming you into becoming a greater version of yourselves. You were created to leave an impact and a legacy whilst you are here on earth but you have misdiagnosed who you are called to be.
At the Shift Academy, your learning goals will be:
Knowing your Identity- Who are you? Learning how to be confident in who God has created you to be.

Discovering your Purpose- Do you know your purpose? Are you walking in your purpose?

Deactivating Barriers against your Purpose- What are the obstacles, blockage that are demolishing your purpose. You will learn biblical strategic ways on how to deactivate forces that sabotages your purpose.

Transcending into your Purpose- Once we have demolished barriers against your purpose you will learn how to go above and beyond, you will be a force to be reckoned with so that you are able to assist the people who are waiting for you at the other side of the queue. 
This course kicks off on September 28 and last for 4 weeks. We meet every Thursday 8pm Online.
I don't know about you but I am very excited to be assisting you in getting ready to walk into your greatest season. (The best is yet to come). If you are ready, please click the sign-up button and a member of the team will start creating a space for me to meet you soon.
The Purpose Planner
The Purpose Planner (With a free pen)
The Purpose Planner is the perfect tool designed for you to get intentional with your purpose and propel to your next level according to the power that is at work in you.
Now unto him who is able to do immeasurably more than we ask or imagine, according to his power that is at work within us. (Ephesians 3:20)
Each quarter consists of a focus scripture which is designed to help you stay on track with your visions and goals settings with a reflection page after each quarter.  There is also plenty of room to write down your weekly notes and goals.
The Purpose Planner is exactly what you need to plan for your future and to allow God to take charge of your visions and goals.
Commit your works to the Lord and your plans shall be established. (Proverbs 16:3)
I was previously a very outgoing, friendly, happy and confident woman. But after a series of unfortunate circumstances had chipped away at my confidence and self esteem, I was in a dark place I'd never been before.
Because of this, I was so afraid of what people thought about me and what they might say, that I chose to hide away and stay in the background to avoid any interaction or confrontation.
I felt distant from God. I believed He was angry or disappointed in me, just like the others were. I felt alone.
Read more...
The truth was, I wasn't being honest with God about how I felt. I was becoming used to being on my own and began to feel anxious whenever I had to be in amongst people."
Then one night God spoke to me, whilst watching one of Nashauna's Instagram teachings, and said " You need to sign up for the coaching academy – No excuses."
He made a way for me to get on to it immediately.
From the moment I started the course I felt embarrassed to be there and to be needing help. How strange that we can talk ourselves out of healing. After the very first teaching had finished, I knew that I had made the right decision. Nashauna spoke about topics that resonated with where I was at, at that exact moment. She told us how we could overcome fears and how we could improve ourselves. Not only that she explained that it was Gods desire for us to increase. God had designed us to be great!
By the end of the course I was renewed. The WES Coaching Academy specialised in bringing out of me the true person that had been hiding. I was able to create a vision for my future self. I could actually see the businesses I wanted to start and the education I wanted to complete.
I found myself again and I owe a great deal of that to the WES Academy. Without the teachings I would not have looked at myself deeply and changed things. I would not have been bold enough to draw even closer to God with the full knowledge that I am especially loved by Him.
If you've ever had a doubting moment, painful past hurts, a lapse in confidence or a time of emptiness like I did, join the academy and see what they and God will do.
Get ready for the highest expression of yourself.
I believe in you!!
Dionne Andrews
Gloucester
Joining WES coaching academy was one decision that I am proud to have made. I had goals, dreams ambitions but was too shy to make the step towards achieving them. Nashauna's teaching gave me that leap to challenge and believe in myself. Her happy disposition and inspirational teachings empowered many. I have done things that I was too shy to do after the motivational teachings received at WES. Self belief, self worth and and a closer relationship with God are some of the amazing benefits I have have received through WES. I have learnt to appreciate the smallest things in life and now on a path to be the highest expression of myself! I value my self more and have learnt more about God.
Read more...
Nashauna would call weekly to check on me and encourage me so I can successfully complete my tasks. She would set me challenges and guide me through it and wouldn't just leave me to struggle with the tasks. I can always call on Nashauna when I am going through a difficult time as she would pray for me and give me the encouragement to believe that God is there always. WES Academy was worth every second of my time and I would recommend anyone who needs that motivation to go for it.
Claudine
Hi my name is Liana Douglas. I joined the academy with a lack of knowledge, not understanding my real purpose in life. Since then I've learnt to love myself even more, adapt to situations in a different way regarding negative energy. I also now know myself worth, not realising who I really was. I've had a great experiencing listening to others speak about their lives. I've got a better understanding of the process of life. Thank you Nashauna for being yourself. 
Let Go Of Procrastination, So that You Can Prosper In Your Purpose!